Purple Bunny's Quest
This is a game for the ZX Spectrum. It will run in an emulator. It won't run directly on a modern computer, unless by "modern computer" you include the ZX Spectrum Next.
I made this using MPAGD as an experiment. It's rather unfinished and probably won't be developed further. I thought I'd make it available for people to play if they wanted!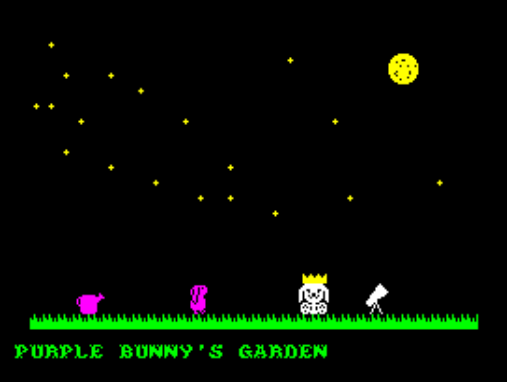 STORY

Oh no! Purple Bunny, King Four-Paws, has woken up and lost his throne, crown, and lots of other tat (in fact, the castle is empty, has it been looted?). You must help the - possibly current but maybe former - monarch retrieve all his worldly possessions.
NB: In this edition only the crown is sought.
KEYS
Q - Up
A - down
O - Left
P - Right
SPACE - Hop/Select
M - Use Object
Download
Click download now to get access to the following files: